Publications
The SSD research group is contributing to the Service Design field by linking academic findings from other areas and generating new knowledge. More specifically, the group's work is focused on:
Design studies, design theory and strategic design,
Participatory design, design anthropology and design for social change, with links to social and humanistic disciplines
The potential of social innovation and service design in addressing broad societal concerns – Designing for the public sector and supporting citizens' access to participative and co-creative activities
Technological aspects of service design and digital social innovation – big and open data in service design, emerging technology and way to integrate them into service design practice, service design and the city, smart cities and urban changes, mobility and other relevant urban phenomena
System change and organization, which links to organization, marketing and management studies, but also to studies about urban change, policymaking, and socio-technical changes.
We regularly publish on various aspects of design and service design. We regularly go to conferences such as ServDes, NORDES and Design Research Society. Our work appeared in journals such as Design Studies, the Design Journal, Design Issues, CoDesign, R&D Management, Journal of Cleaner Production, Technovation, Journal of Knowledge Management, Journal of Business Research, Visual Studies and Leonardo.
For a complete list of publications, please visit this link.
HIGHLIGHT
Strategic Thinking, Design and the Theory of Change
Authors: Simeone Luca, Drabble David, Morelli Nicola, de Götzen Amalia, 
Written by leading scholars and practitioners in the field, the book applies a range of case studies to explore how Theory of Change can be implemented in projects and programmes on different scales. Bringing together cases from different geographic, social, economic and cultural contexts, it demonstrates how Theory of Change can be adapted and help projects to grow and replicate, and showcases the different ways in which practitioners can utilize it. 
Strategic Thinking, Design and the Theory of Change will be essential reading for both professionals already working with Theory of Change and academics interested in strategy, organization studies, innovation management, design research and project management. Graduate and undergraduate students will also find the book's practical approach and intensive use of case studies of value.
Contributors include: Richard Allen, Torben Juul Andersen, Rebekah Avard, Leyla Bagherli, Chris Barnett, Jean Barroca, Jessica Baxendale, Raynette Bierman, Carys Boyle, Lisa Cagnin, James Copestake, Joe Cullen, Amalia de Götzen, Veronica De Salvo, Ignace De Somer, Salvatore Di Dio, David Drabble, Francesca Foglieni, Luca Gatti, Nigel Gilbert, Laura Hayward, Adam Hejnowicz, Cary Y. Hendrickson, Maryna Henrysson, Matthew Jones, Kerstin Junge, Patrycja Kaszynska, Aurélie Larquemin, Bertil Lindenfalk, Fraser Macleod, Tarran Macmillan, Stefano Maffei, Jesse Marsh, Laura Martelloni, Nicola Morelli, Joanna Petkiewicz, Steve Powell, Ilona Puskas, Fiona Remnant, Andrea Resmini, Domenico Schillaci, Luca Simeone, Richard Stephens, Matthew Terry, Adam Thorpe, Cameron Tonkinwise, Isabel Vogel, Michael Wagemans, Michelle Zucker
For more information, follow this link.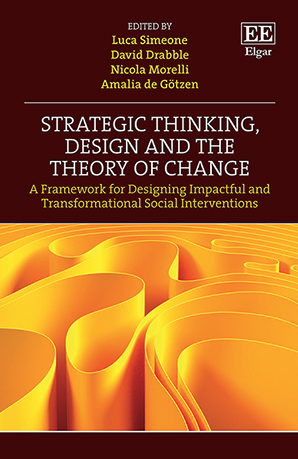 Service Design Capabilities
Authors: Morelli Nicola, de Götzen Amalia, Simeone Luca
Series: Springer Series in Design and Innovation
Explores current service design practices on value creation that involve multiple actors
Enables designers to facilitate the emergence of design capabilities that are latent in communities and individuals

Provides relevant case studies to show the emerging design capabilities
This open access book discusses service design capabilities in innovation processes and provides a framework that guides design students, practitioners and researchers towards a better understanding of operational aspects of service design processes. More specifically, it revisits service designers' capabilities in light of the new roles that have opened up in innovation processes on different scales.
After years of being inadequately defined, the professional profile of service designers is now taking shape.
Today private and public institutions recognize service designers as essential contributors to their innovation and development processes. What are the capabilities that characterize a service designer? These essential capabilities are what service designers should acquire in their education and can sell when looking for a job.
Access this book for free HERE